Bright Club Dundee is back again, this time part of the ever-growing Dundee Literary Festival, promising to be a night of fun, laughter and cracking performers from local Universities telling you their finest jokes!
Garry, who is wonderfully funny, will bring to you our special line-up featuring funny people from Scotland's top Universities: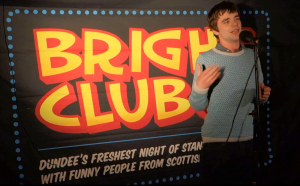 Calum Rodger – All Modernist Cons
Eddie Small – Dying for a Laugh
Peter MacKay – One man and his bees-wax
Timothy Baker – The Problem with Dying in Scotland
Andrew Blair – Godfather of Edinburgh Poetry
Karen Petrie – Not that Kind Of Language
This specially-themed event will take place on WEDNESDAY 22nd October 2014, in the basement of DROUTHY's bar, Perth Road, Dundee. Doors open at 7.30pm with the show kicking off at 8.30pm.