Bright Club Dundee is back again with a night of fun, laughter and cracking performers from local Universities telling you their finest jokes!
Our uniquely funny compere, Andrew Learmonth will bring to you our line-up for the evening featuring: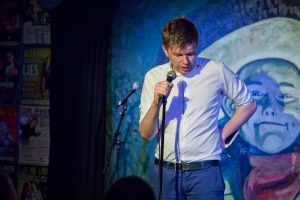 David Booth – What Not To Say To Students
Yumiko Yasuda – Damn Hydropower
Tom Fleming – Saving Face
Edgar Huitema – Plants Unmoved
Eddie McKean – Is Philosophy Dangerous?
Jennifer Livingstone – Student Funding: Skint and Loving It!
Five of these performers, from the University of Dundee will be making their debut appearances right here on our stage!
We can't wait so come and join us on Tuesday 10th June 2014, at Braes basement for over two hours of laughs! Doors open at 7.30pm and the Show kicks off at 8.30pm.
Every Bright Club Dundee show has been a complete sell-out so don't delay and bag your ticket today!